Featured:
Go Back
Tagged as 'asp.net mvc'
22/3/2017
Let's build a profile page to display the user details fetched from Active directory when using Forms Authentication with AD. We will use Galactic..
Read more
---
21/3/2017
Sometimes, we may need to authenticate users against Active Directory when using Form Based authentication using LDAP. Let's see how to authenticate..
Read more
---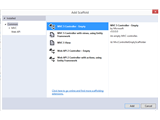 18/3/2017
There are situations when you will need to mix Asp.Net WebForms into a MVC project or vice versa. Let's assume you are developing a new Asp.Net MVC..
Read more
---
---