Many times, we will come across a need to convert a web page or a word document or an excel sheet to pdf file. This simple article will help you to convert to pdf file without installing any additional software.
Converting a Web Page to PDF Document
We can convert any webpage to pdf document with Google Chrome Browser. Follow the steps mentioned below to convert a webpage to pdf file.
Open Google Chrome Browser and visit the web page you need to convert.

Click Print.. from the Chrome menu or simply press Ctrl+P.

This will bring the Chrome's Print window. Click "Change…" button under Destination. This will bring a printer management dialogue as seen below. Click "Save as PDF" seen under "Local destinations" section.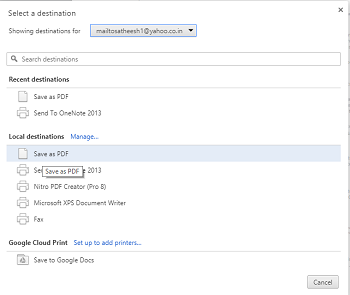 Click Save button again. This will bring the "Save As" dialogue. Select a location to save the pdf file.

That's it. You are done!
Convert Microsoft Word Document/ Excel Sheet to PDF File
Steps
Open the word document/excel sheet you want to convert as pdf file.

Go to File > Save As and select a location to save your pdf file.

Change the "Save as type:" to PDF (*.pdf) as seen in below image.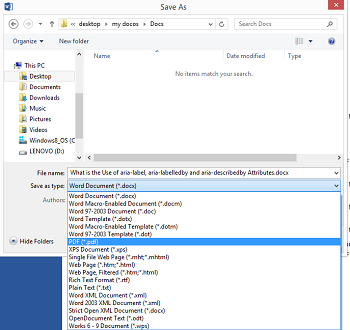 Click Save Button. That's it! You are done.